Your kitchen isn't just an isolated part of the home where beautiful dishes are made, rather, it is a central and integral part of your home. In most homes, kitchens are often combined with a living area, making them a welcoming space that can be used to socialize and entertain. It is essentially the heart of the home and thus, should be treated just like other rooms or spaces in your home.
With so many woody materials making up your kitchen space, you can't help but want the soft and perfect contrast your kitchen needs and that's where your windows come in! You definitely do not want to add artistic items like big sculptures to your kitchen, but you can still transform your kitchen space using your windows. Having the perfect window covering can give your kitchen a tremendous transformation and give it the perfect aesthetic view while maintaining the homely nature of the kitchen.
Decorating windows is an art. Therefore choosing the perfect window covering for your kitchen window can be tasking. This includes not knowing which window treatment to use between window blinds, and curtains in your kitchen. This will help though.
In this article, the features of window blinds and curtains in kitchen will be discussed, then you can decide which of the window coverings you want in your kitchen depending on your style, choice, unique story, and kitchen space.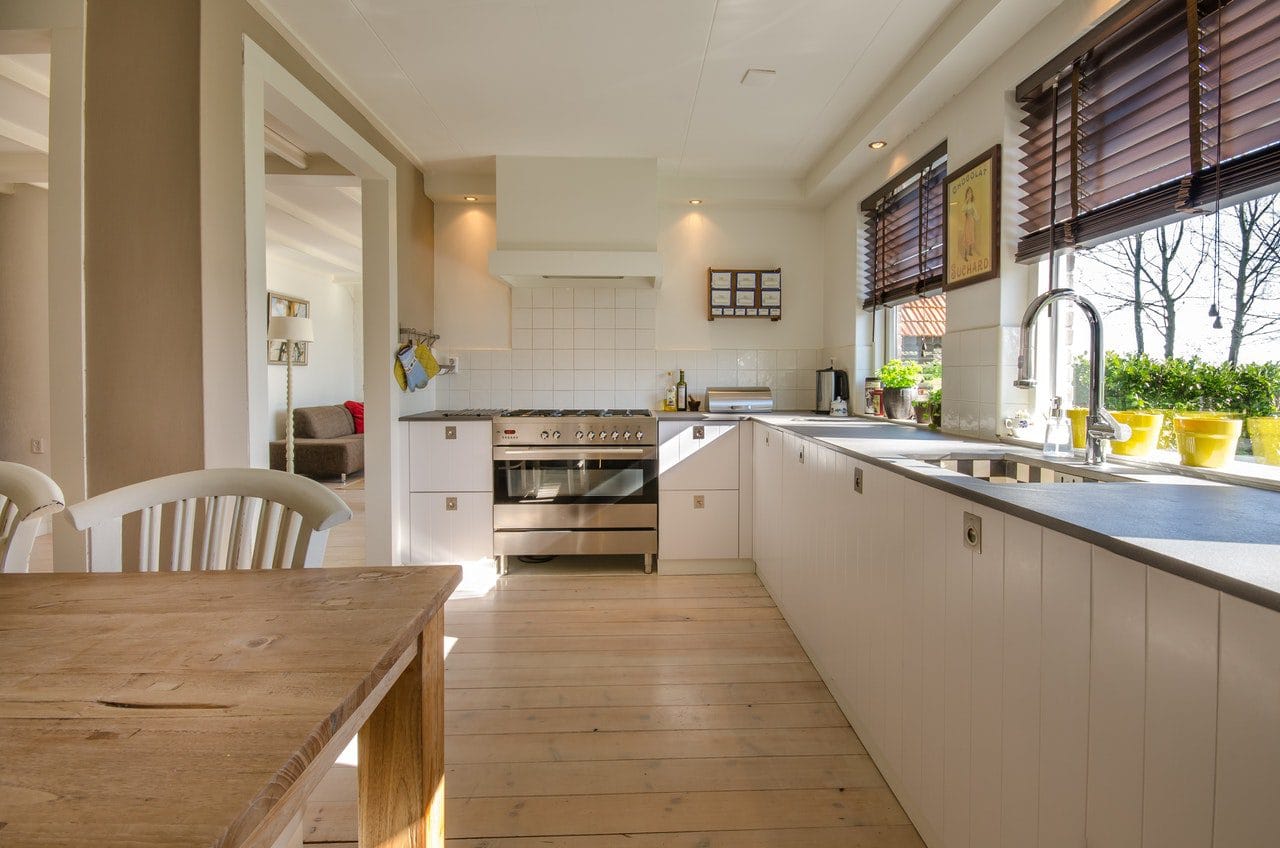 THE BEST TYPE FOR YOUR KITCHEN
There are a number of options you can choose from when it comes to window blinds for your kitchen. Let's take a look at some of them.
Mini blinds are unique and popular window treatments that you'll find on most kitchen windows. This is because they are easy to install, and easy to maintain. Their slats are less than half the width of standard blinds. Therefore, if you' prefer conventional window blinds with great longevity, a high-quality mini blind may be your best choice.
One more remarkable thing about mini blinds is that they can be adjusted to suit your preferred privacy setting or increase the amount of daylight in your kitchen. Although, they do not keep out light completely like blackout shades do, however, they keep out enough light to suit your desired preference.
These type of window blinds are popular and simple in design. They consist mainly of a headrail and vertical strips of quality fabrics. Their versatile nature makes them a great option for your kitchen windows, as you can completely slide the blinds out of the way and stack the slats in a corner, or you can tilt the slats to allow more light enter your kitchen. These type of window blinds are a considerable option, particularly if you have large windows in your kitchen, as they help compliment the wide shape of large windows.
You'll also be delighted to know that they come in a wide range of textures, design and colors. You don't have large windows in your kitchen? Not to worry! You can also get them customized to fit regular window sizes.
Roman blinds are fabric window treatments that hang flat against the window when in the down position but shifts into neat horizontal folds when raised. With the use of a cord system, the shades can be raised or lowered whilst revealing a long continuous fabric that has rings sewn on its back. The shades can let in a significant amount of natural lighting when raised, and when it's lowered, it may still allow natural light to shine through to your kitchen depending on its fabric type and color.
These blinds are classy, and they can bring a soft, modern polish to your kitchen. So if you want a combination of privacy and light access, while maintaining a stylish kitchen, Roman blinds are your best bet.
Cellular blinds also called honeycomb shades, usually come with cordless controllers for pet and child safety. They have geometric folds that run horizontally thus resembling honeycombs. These shades offer an insulating effect which makes it a great window treatment for your kitchen windows as they can help regulate your kitchen temperature and provide privacy or natural sunlight when needed. They are made with durable fabrics that can resist wear and tear, and they do not fade easily.
Another significant thing about cellular shades is that they can be customized to add a colorful design or maintain a neutral color in your kitchen.

Benefits of Using Window Blinds in Your Kitchen
Using window blinds in your kitchen come with some advantages. A few of these advantages are listed below.
PRIVACY: Window blinds are perfect if your kitchen windows are facing the streets or your neighbor's windows. Installation of window blinds will prevent passerby or onlookers from prying into your kitchen, and can help you feel more secure in your own kitchen especially while you're making dinner at night when it is easier to see through your kitchen windows. 
LIGHT CONTROL: Window blinds offer a range of light control options, which can either let light in or keep light out. You can raise the blinds, lower them or adjust the slats to change how light enters your kitchen. If you only have one window in your kitchen, you can adjust your window blinds to let in as much light as possible while still being able to maintain privacy. If your kitchen window is located on the side that acquires a lot of daytime sun, you can adjust your window blinds to reduce the natural sunlight without blocking it completely.
AESTHETICS: Window blinds are made with high quality textured fabrics, which makes them one of the best window coverings to add style and beauty to your kitchen, while performing their intended functions. They can make a good color contrast in your kitchen, and can be customized to meet your specific style or designs.
MAINTENANCE: The streamlined shape of window blinds suits a busy cooking area as it is less likely to overcrowd the kitchen window. Window blinds are easy to clean owing to their smooth, and slick surface. They can be easily maintained and wiped with a towel or a soft sponge every day.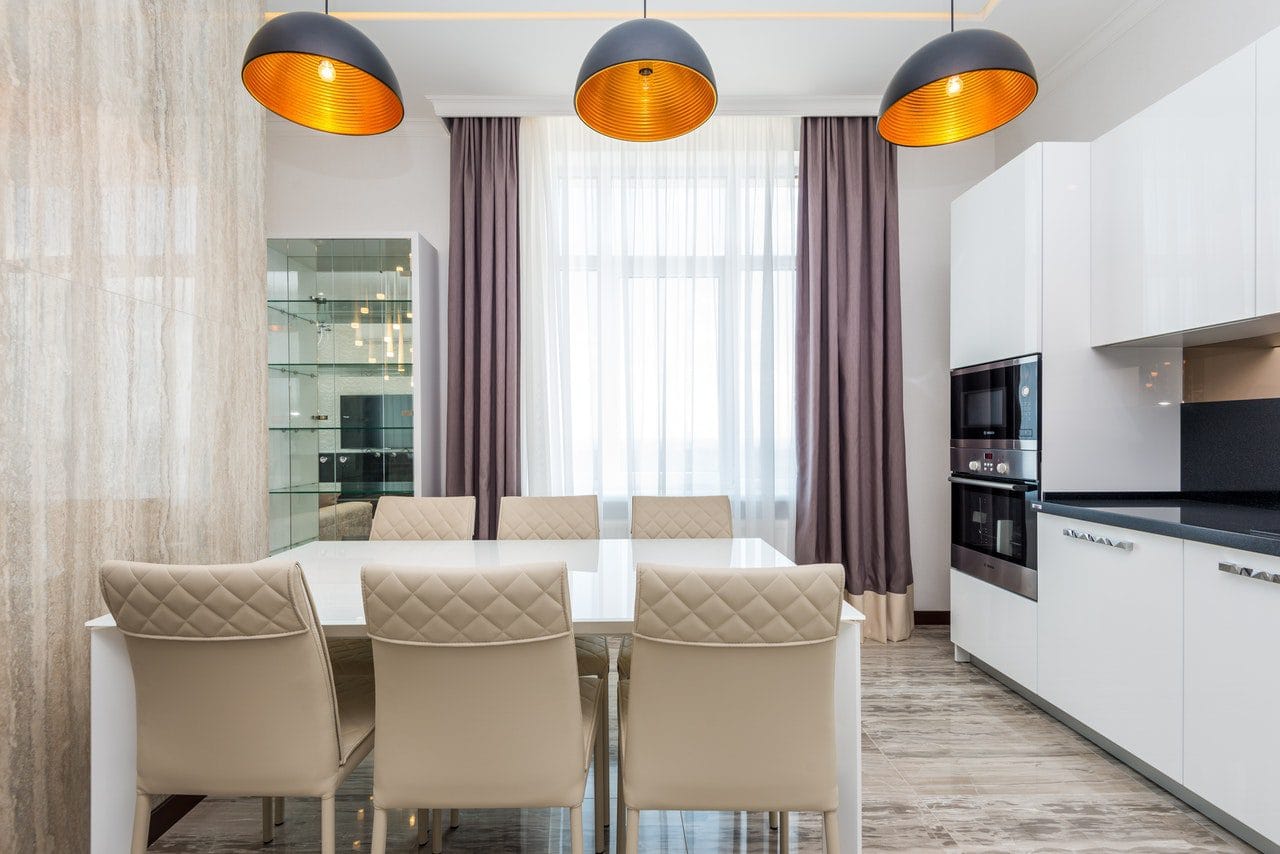 THE BEST TYPE FOR YOUR KITCHEN
There are a number of options you can choose from when it comes to window blinds for your kitchen. Let's take a look at some of them.
Valances are short curtains that hang at the top of the window offering minimal coverage. It is ideal for your kitchen window where privacy is not a concern, and you want to let a lot of light shine through. Additionally, a traditional valance adds a burst of color, pattern, and drapery to emphasize your kitchen window. Another thing to keep in mind is that kitchen curtains will become dirty faster than the ones in any other of your rooms, therefore the short nature of valances makes them a great choice for your kitchen.
These type of curtains in kitchen cover only the bottom half of your window, allowing them to easily blend in with your other kitchen decor. They come in various colors and designs. They allow you to have as much light as possible in your kitchen, giving it a beautiful glow. These curtains are less expensive, and can easily be installed. If you're concerned with having more privacy, you can get a matching valance to cover the top of your window.
Sheer curtains are made from lightweight materials. They are transparent enough to let the light in the kitchen while also providing a bit of privacy. Their soft colors and delicate fabrics design gracefully adds to the beauty of your kitchen. A set of sheer curtains looks beautiful when paired with vintage molding around a window, or if the window has a picturesque view.
This valance type offers a bit more privacy, they give your kitchen a soft, lively look, and a touch of aesthetic appeal especially if you have a window over your kitchen sink. You can always adjust how the valance hangs and drapes at the bottom, giving you a pleasant view of the outdoors, and allowing natural light to shine through.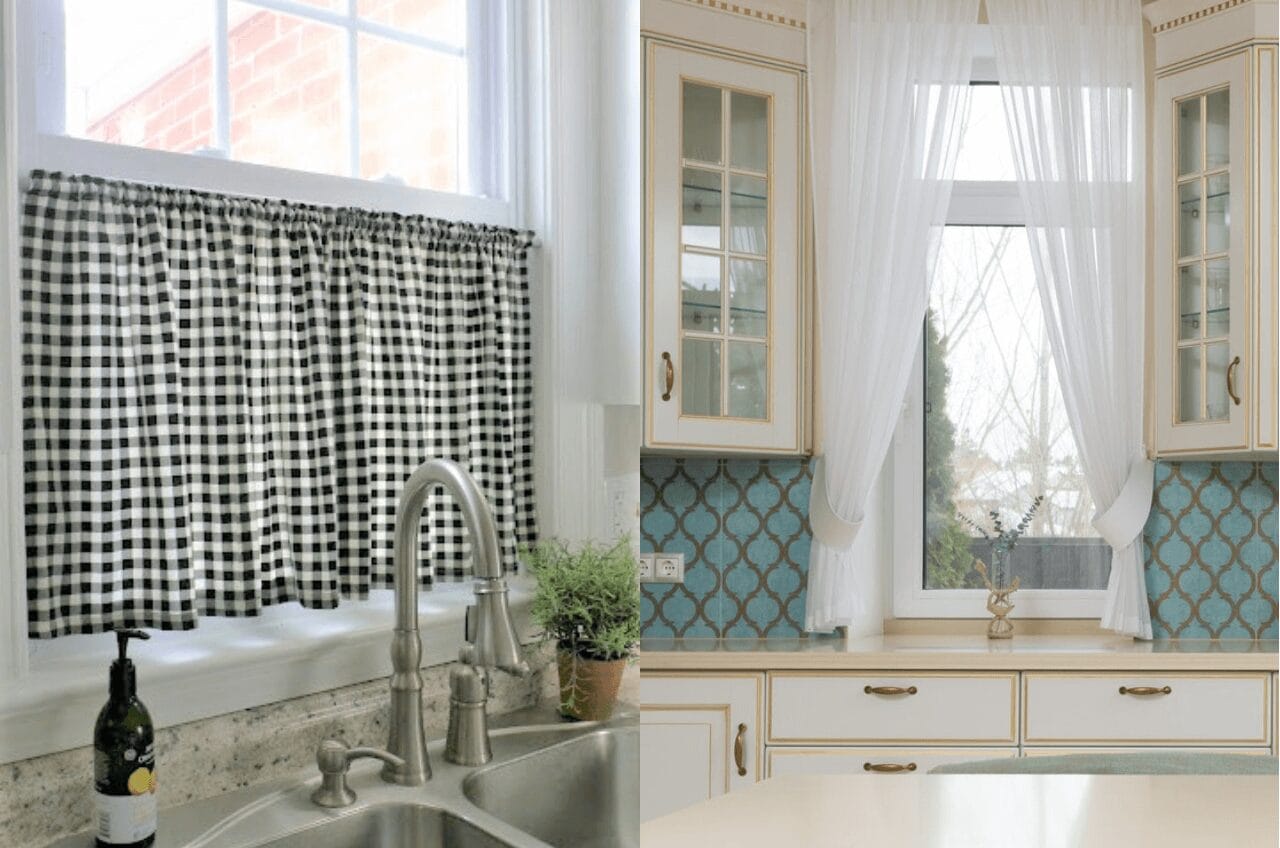 Benefits of Using Curtains in Your Kitchen
Curtains in kitchen are one of the best type of window treatments. There are benefits involved when curtains are used in your kitchen.
INSULATION & SOUNDPROOF: Curtains in kitchen provide thermal insulation which helps to regulate the temperature in your kitchen during winter. Some curtains may offer this naturally, while others are encapsulated with a thermal liner to make them more insulating. Furthermore, they can also be used to provide soundproofing benefits as well.
PRIVACY: If you're looking for complete privacy in your kitchen especially if your kitchen windows are facing the streets, curtains are a great pick. Curtains will cover your windows completely, blocking out all sunlight. So if you are someone who cherishes your privacy even in the kitchen, curtains are definitely the way to go.
However, if you are a lover of bright kitchens, or you think your kitchens are too dark or boring, then addition of soft, sheer curtains in your kitchen may be a good choice of window treatments.

CLEANING: Unlike window blinds, you cannot wipe down on curtains in kitchen to clean them, they have to be properly washed manually or through the use of a washing machine. This would help to get rid of dirt and other soils accumulated from greasy steams in the kitchen. Window blinds may be wiped to get rid of dirt, but they definitely cannot be washed thoroughly like curtains.
DURABILITY: Humidity and temperature are also important factors to consider, as they can cause kitchen blinds to become deformed, twisted, and crooked leaving you with warped blinds that need to be replaced. With this in mind, you might want to opt for curtains in kitchen as they may be the best option for your kitchen if you're worried about exposure to heat and humidity.
Window blinds, as well as curtains in kitchen are acceptable window coverings. Both blinds and curtains have a part to play in the modern kitchen. Ultimately, deciding to install window blinds, or curtains in kitchen is based on your personal preference. There are no fixed rules when it comes to window treatments. You can go for your desired window covering while ensuring your choice aligns with your kitchen space, size, style, and other décor.
When done correctly, both windows blinds and curtains in kitchen can give your kitchen a modern, stylish, and phenomenal aesthetic appeal. Still need help in deciding what's the best type of window treatment for your kitchen? ASK US.